Top 5 Types of Cabinet Doors
---
Top 5 Types of Cabinet Doors
Over the weekend, we walked through a few new construction homes and couldn't help but notice the differences in each one. Cabinets can make or break the interior design of your home, and since the kitchens, the main focal point is the cabinets, it is essential to put a little time and money into making the best decision.
Replacing cabinet doors is one of the best ways to give your kitchen a refresh without the hassle and money it would cost to do a complete remodel.
You have to think about a few things when it comes to new cabinets.
The face of the cabinet

Stain or paint color

"Uppers" or open on top

Material

and last picking the Hardware
Picking the face
Raised Panel - These have a raised center panel and a grooved.
Recess Panel - It is just the opposite of raised, recessed center panel and raised edges to give it a profile.
Shaker Cabinet - Recognizable for its plain, unbeveled rails with a recessed center panel
Slab Cabinet - Popular in Europe and is ideal for contemporary/minimalist kitchens.
Mullion Cabinet - This is made up of two materials, glass and wood or wood-like material.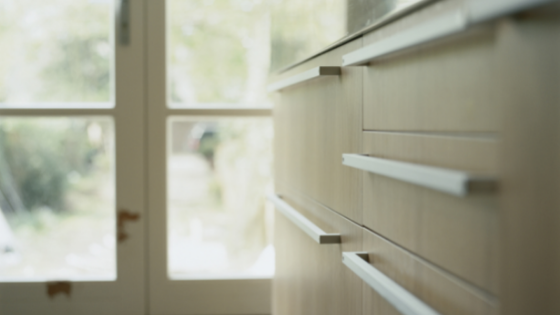 Stain or Color:
Another tough choice, do you paint or go the traditional route of picking a color?
In today's ever-changing fads, many opt for colored cabinets to transform their kitchens. The most common color of cabinet paint is actually white. We could not imagine having white cabinets for the sake of dirty dogs, and sticky fingers. You can always apply additional topcoats that make cleaning easier.
For those who like the traditional wood stain look the most popular is a warm dark oat color. Below you will see a large list of stains available to pick from.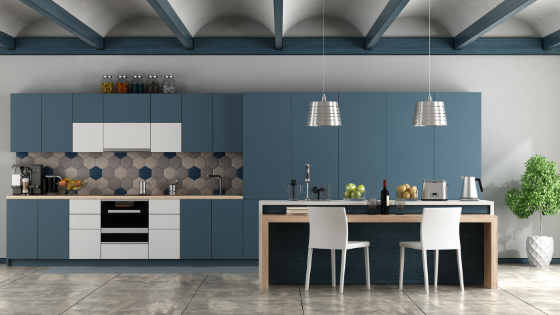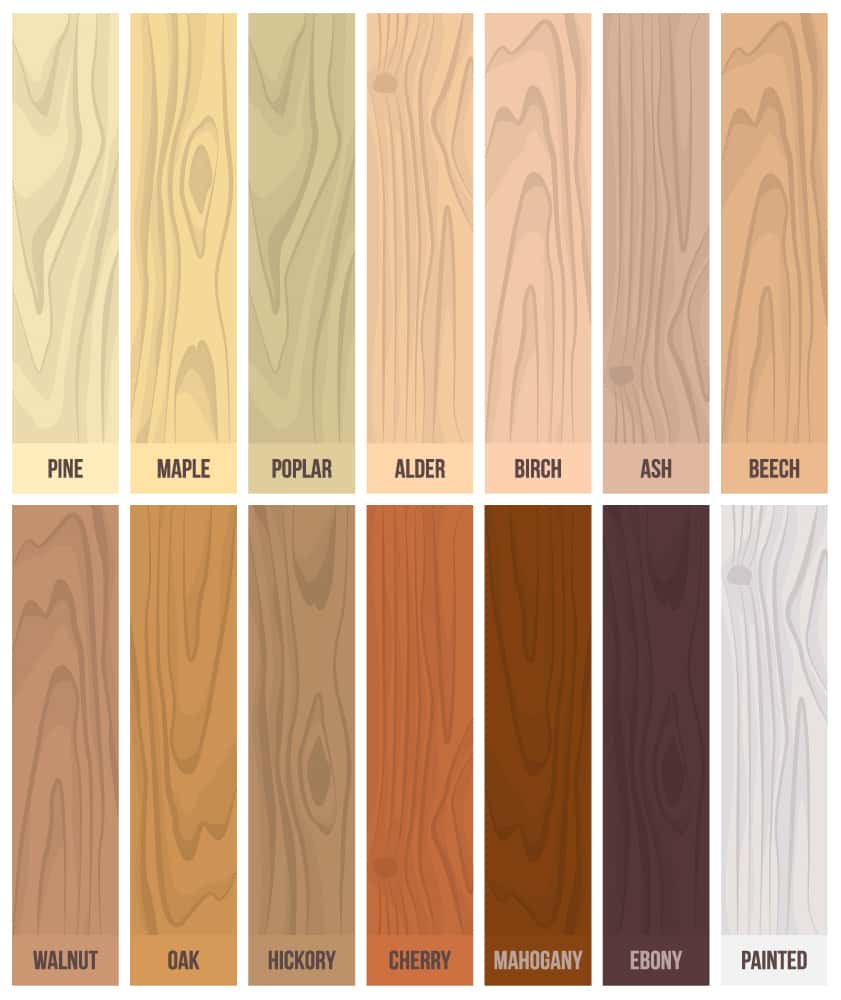 Uppers
Uppers allow you to utilize the extra space above your normal cabinets, although some opt to leave it open for decorating purposes.
When we walk through homes, especially the kitchen with our buyers, the first thing they notice is how little cabinet space there is and how the first thing they will do is extend the cabinets. Cabinets are expensive especially if you are attempting to match the cabinets you already have in the home.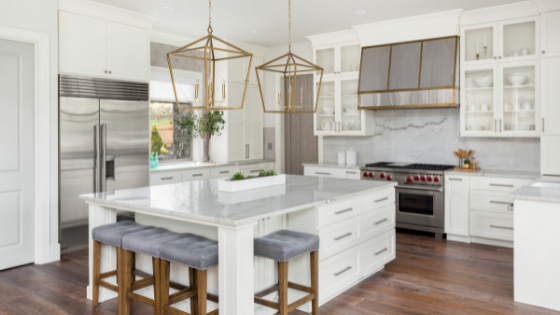 Material
Similar to the face of the cabinet, which plays a massive part in what materials you can go with. There are pros and cons to each of them.
Hardwood - is the most common and comes in a wide range of options, can be very expensive.

Plywood - Strong and resilient comes in many different grades. Plywood is glued then laminated with a hardwood veneer but can be very inconsistent.

Particleboard - Wood alternative, and can be very affordable. The massive downside is that it doesn't take paint or stain.

MDF - Also known as Medium-density fiberboard, is a wood composite. It is warp and moisture resistant and easy to stain and paint. The primary cons are that they are not as strong and are susceptible to sagging.

Metal - Gives a very industrial look and can be warmed up with wood frames. Metal is stain resistant and durable but easily scratches and dents. And those pesky fridge fingerprints we all complain about are not all over our cabinets.

Laminate - Made up of wood-particle boards with a top coat of wood veneer, creating a perfect cabinet for small budgets. They are easy to clean come in many finishes and colors. The only downfall is you cannot paint laminate cabinets.

Melamine - I know you are thinking of bowls and plates for outdoor use; melamine is popular for kitchen cabinets. They are highly affordable and comes in an assortment of patterns and colors. The main downfall is that melamine is always square, limiting your design options.

Thermofoil - The material is similar to laminate and is made up of vinyl film to create thermofoil. Thermofoil allows the material to be more water-resistant. It is relatively affordable but is very limited on the finishes, and it only comes in light grey and white. You can paint or stain them, but it is much more challenging to do so.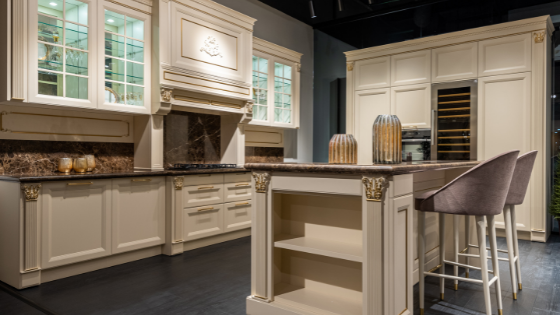 With so many options, it's good to come up with a base budget and then discuss materials that would best fit within the budget and then the needs and wants of your kitchen. It is difficult to tell the difference between hardwood and engineered hardwood -- unless you look really closely.
Hardware
Hardware has multiple options for style. It provides functionality and aesthetic appeal, and there are hundreds of ways to transform your cabinets with handles, pullies, and knobs. The most critical piece is how it fits your lifestyle.
Picking hardware for kitchen cabinets can be difficult, but keep a few times in mind.
Kitchen Vibe - Contemporary or ornate and vintage, there are pulls and knobs for all.

Functionality - Easy to install and come in a variety of colors and shapes to best fit your needs

Space available - If you have large cabinet doors, you will pick a different handle than small drawers stacked together where a knob would be a better option.

Position of the knob - Left, right, and center is the great debate regarding placement on the cabinet.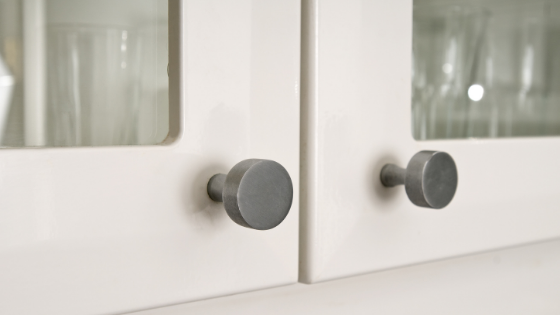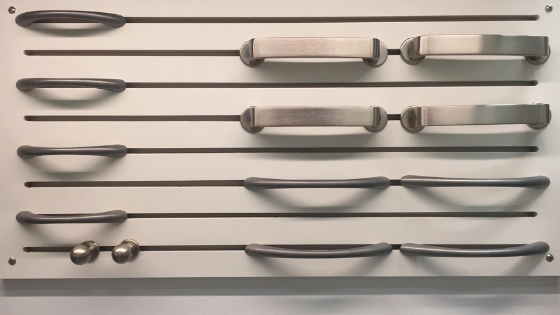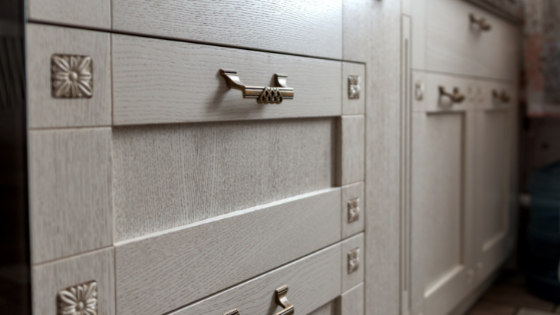 Choose the most comfortable shape for your hands, round knobs are easier to grab, but square offers a sleek look. Decisions... Decisions.