National Homeownership Month
---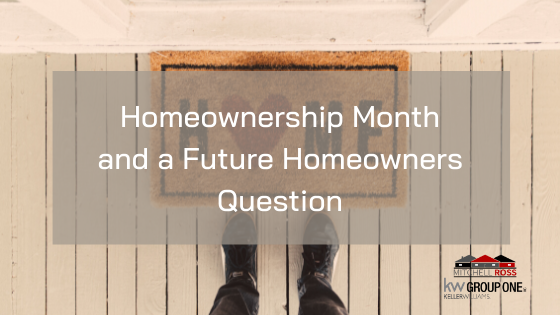 June is National Homeownership Month!
June has been National Homeownership Month for over 19 years. It was first observed for only a week in 199 by President William Clinton, and then in 2002, George W. Bush expanded it to the entire month of June.
Now buying a home might be the way to celebrate Homeownership Month, which isn't possible for all. Even with additional buyer advocacy and grants in place, inventory is still now.
Every step to homeownership is special. From the first meeting with buyers where I walk new buyers through what to expect, to set up their unique home search, to writing an offer and anxiously waiting for the seller to accept their offer, and of course, the best part when the buyers get the keys and officially become homeowners! It's what I fell in love with when I first started in the business.
I want more people to experience the opportunity to own homes and live the American dream of homeownership.
We wanted to answer a question a future homeowner asked us.
What is your advice for starting the home buying process in this competitive market?
There are two CRUCIAL things to locking in your new home:
Patience! - The market is competitive, AND that doesn't mean it's impossible. I will get you the keys to your new home, and it is going to take a little extra patience.
It's time to trust the process and understand that you might be looking at a few extra homes than before and that it might take multiple offers over asking to win the home.
Gratitude: Maybe currently, you are in the thick of searching for a home with no luck so far. Or maybe you might be feeling discouraged because all you hear is this is a "crazy market."
Well, I'm here to let you know I will be your real estate best friend. We can get coffee and talk about the complete A-Z
blueprint to getting in the new house and what hurdles you're most worried about.
With that, I want you to remember why you started this process in the first place and remind yourself to be grateful. Not everyone is in the right place to become a homeowner or even be in the process of buying their first home, or a second for that matter. It may feel like a sprint, and in the end, it's a journey, and it should be an enjoyable process.