REAL ESTATE Q&A: Should I sell my home privately?
---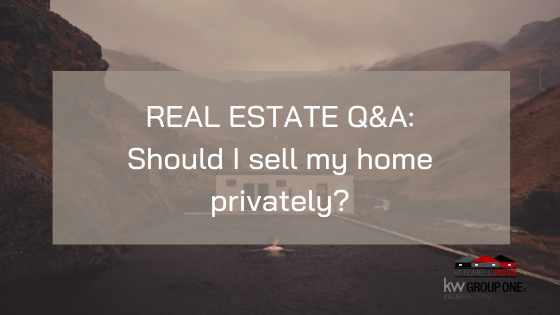 Right before I sat down to type out my monthly email, I saw something pop up in my inbox that caught my eye. The subject line read "Selling our Home Privately" and was from a well-known interior design blogger I follow on Instagram. I strive to be THE REALTOR in your back pocket, to keep you ahead of the curve on where the market is, what you need to know, and always be a resource. After reading this article, I feel compelled to share more on this story with you. *You may want to grab a margarita and get cozy!
So what does selling your home privately mean exactly? Selling your home privately is pretty much just the fancy way of saying "I didn't work with a real estate professional" and while that is a decision that everyone has the right to make, I wanted to shine a light on a few things that those who aren't professionals may not realize they're missing when they do decide to forgo working with an agent when selling their home.
You may not be thinking of moving BUT it's National Moving Month so it felt like an appropriate time to talk about this!
Hiring a real estate professional isn't just about putting a for sale sign in the ground, hosting a creative open house where we have a movie going in the theater room with popcorn for the buyers to create a true experience, and putting it on MLS (although we do those things as well)! It goes far beyond those basic things.
We know the market and utilize our expertise to be able to price your home competitively and effectively. There have been multiple situations where homeowners considering selling on their own let me know the price they were thinking of listing for (and it was well below what they could realistically get in the current market even after the expense of hiring a REALTOR).
Buyer Math: Buyers realize that if you're listing your home FSBO, you're not paying a REALTOR. They will take that into consideration when determining what price to offer and be willing to pay you.
Demand – You've probably heard how crazy the market is right now. Inventory is at historically low levels and there are more buyers looking for houses than there are houses for sale. It makes sense that sellers might be contemplating selling on their own. However, in order to drive up demand when you put your house up for sale, you're going to need a REALTOR. There wouldn't be a hot seller's market right now if REALTOR's didn't exist!
Negotiations, Contracts, Timelines, The gap – Once you get your house under contract, you are only at the beginning! There is a large gap between an accepted offer and closing where you could potentially lose some serious money if your negotiating skills and knowledge of contracts aren't up to par. From strategizing the appraisal, negotiating with the buyer's agent, and making sure we're on track with deadlines, these factors all play a role in getting you to the closing table and cashing in on your proceeds.
And if you're someone who loves data, here's an excerpt from a report by the National Association of REALTORS: "FSBOs typically sell for less than the selling price of other homes; FSBO homes sold at a median of $217,900 in 2020 (up from $200,000 in 2019), and still far lower than the median selling price of all homes at $242,300. Agent-assisted homes sold for a median of $295,000…Sellers who began as a FSBO, then ended up working with an agent, received 98 percent of the asking price, but had to reduce their price the most before arriving at a final listing price."
If you have questions about the selling process or anything I mentioned above, I'm always an email away!