3 Things to Prioritize When Selling Your Home
---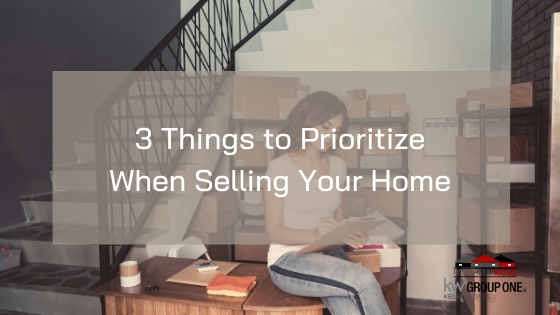 As a seller, today's housing market is in your favor. High buyer's demand and low housing inventory have created the ultimate seller's market, meaning a fantastic time to sell. However, that doesn't mean that there is a guaranteed sale, and there are some key mistakes sellers and inexperienced agents are making in today's market. Here are the costly mistakes you want to avoid.
Pricing your home too high
When inventory is low like it is currently, it's common for many people to think that buyers will still pay if I list my home over the desired market because they need a home. The opposite is actually true. Just because homes are in demand doesn't mean people want to pay over market price.
Picking the best price for our market can be tricky, yes there are external platforms you can use, and nothing is more powerful than an agent that can see your home and has experienced the market as it is today.
Just because a website says you can get $80,000 over the exact same house down the street does not mean list your home $100,000 over and expect an over-asking offer.
Getting your emotions involved
NOW... I will start with you can have your emotions. Of course, we are humans. What we don't want are our feelings clouding the end goal. You want to sell your home, and a new buyer will soon become the homeowner. This home is special to you, and it might have been your first home you purchased or where you brought your first child home to. Those connections make it even harder to separate the emotions of owning a house from the current market value.
Many homeowners stay in their homes for an average of 10 years instead of the average for many years. Five extra years of memories from the average a few years ago.
That's why you need a professional to help you negotiate along the way.
Not staging your home
Many of my sellers have fantastic taste and have lovely decorations for their homes. However, not all buyers will feel the same way about your design and personal touches.
Many home stagers will consult you and let you know what needs to go and how to use the decor you already have. You want buyers to see themselves in your home, not you throughout the home. It's hard for buyers to imagine themselves within the house when there are many family photos or over-cluttered areas.
Staging creates a clean, decluttered home so that they can imagine themselves in the home.
We can help you with tips to get your home ready to sell, and if staging is needed, we will walk you through that path.
Today's seller's market might be the best chance you have to sell your home and make your next step. If you are considering or you want to make a plan for your future, please reach out. I am always happy to help answer any of your questions and help you create the method that works best for you and your family.