5 Common Issues Inspectors Uncover During Inspections
---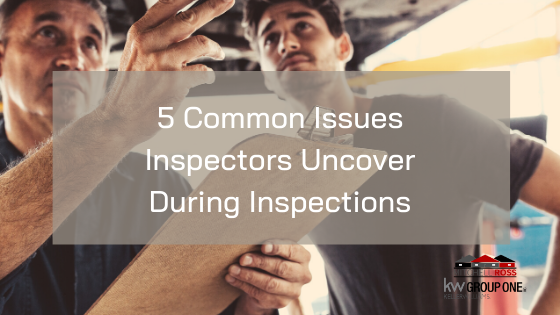 As a homeowner getting a home inspection before purchasing a home can make or break a deal. When you get the inspection report back, you will be better prepared for what you are walking into when you move in.
Plumbing

. Depending on where you are thinking about purchasing, plumbing can be a major issue. A few places in town have Kytec plumbing, and many of the subdivisions have repiped their homes or are currently living with faulty pipes. Personally, we have learned the hard way that you can only file 3 "water" related issues with your homeowner's insurance before they increase your insurance rate or decide not to resign you.

Mold.

Ew. Showers, tubs, sinks, air conditioners, attics, and basements. Pretty much your entire home is at risk for mold. Your inspector will do a thorough check of each problem area within your home to ensure it is free and clear of mold. Mold can cause health issues such as headaches, skin irritation, and respiratory issues, to name a few.

HVAC Issues.

One of the main issues we run into in Northern Nevada specifically is that it's hard to test the AC in the winter, and in the summer, it isn't easy to test the heater. During your inspection, the inspector will check for blown fuses, damaged coils, dirty filters, gas leaks, and any cracks. They are looking for any major issues that would impact the ability to heat or cool your home.

Poor Drainage.

One cause to wet crawl spaces, cracks in the foundation and mold, is poor drainage when it comes to your landscaping. The water that drains from your water system and gutters should be carried away from the house. If it drains towards your home, that is when it will make its way towards the crawl space, basement, or foundation.

Faulty Electrical System.

This is a scary one. Out-of-date electrical systems, or lack of power supply, and faulty circuit breakers are just a few that can cause a fire or another major disaster. Your home inspector will recommend repairs to ensure it is wired properly and safely.
You should ALWAYS get a home inspection before you purchase a home! Even when purchasing a new home, having an outside reference check the work of another is worth it in the long run. During the purchase process, repairs to the home will be addressed and negotiated. Even if you passed on the home inspection, you might consider getting one after hearing some of these issues.