Covid-19 and the Reno Market
---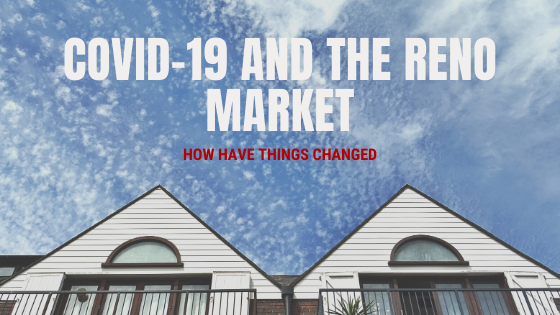 This Month's Minute with Mitchell is unique and will hopefully be a surprise to you, mainly because it might not be what you see or hear in the media.
Each day I start by looking over our real estate market as a whole to see what the daily change is, then looking over my client's market reports to make sure nothing has changed for their current listings.
Over the past few weeks, we have been seeing almost as many new listings come on to the market as we see homes receiving accepted offers (between 10-15 daily in Reno). March had a median sold price of $430,000.00, in case you haven't been following, this is a new record. Days to Contract is the lowest it has been all year at 43 days, and lastly, March saw the most amount of New Listings hitting the market at 429 new listings.
The interesting thing here is that year-over-year new listings are only down 7%, and new contracts are down 12%, with our "essential business restriction guidelines," it's not surprising to see this decrease. If you have a tenant-occupied property under no circumstance, even with a written agreement, can anyone enter a property that property. That makes showings difficult as tenants occupy 52% of our properties in Reno. Not that homes cannot be bought and sold without seeing the property, it's just not the norm and will take people a little to get used to. The way real estate is "run" currently has caused showings to decrease around 60% nationally, but written offers (Nationally for Keller Williams) are only down about 15%. With plans for the economy to reopen in phases, its essential people feel they have options and strategies.
Now, make no mistake, the way real estate has taken place before the outbreak, and the way it's currently happening is different. Your personal experience with buying and selling your home is just that PERSONAL. My job is to be a Real Estate Professional and research facts and numbers. Then bring that information to my community so that they can decide if right now is the right time to buy or sell a home. Every situation is different, and for some, now is going to be a perfect time, for others, it's going to be better to wait and create a plan.
Whatever you decide, it's essential to talk to a real estate professional to create your plan no matter the time frame. I wanted to share with you what I see happening in our market as a Real Estate Professional. With facts and numbers.